Mobilus - Tubular motor M35 ERS

The family of MOBILUS ERS motors with SENSO 4.0 obstacle detection technology provides the most technologically advanced solutions dedicated for demanding specialists and users of protective systems.
Motors of MOBILUS ERS family were fitted with the state-of- the-art radio unit of COSMO | 2WAY bi-directional communication which enables the exchange of information between the transmitter and the receiver.
The solution ensures full control of motors' operations and does not require visual contact with the controlled roller shutters. This feature is perfect for buildings with a large number of receivers.
See more
Get inspired to create a Smart Home with us.
Manufacture: Poland 
We would like to inform you about the absolute prohibition of screwing into the product's carrier. Blocking the ERS actuator by screwing it to the roller tube will cause that the SENSO 4.0 obstacle detection function will not work. The length of the driver has been chosen so that screwing is not required.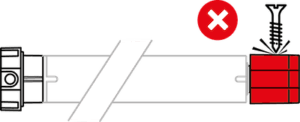 | Model | MINIMAL TUBE DIAMETER [ mm ] | [ Nm ] | [ rpm ] | [ W ] | length [ mm ] | type of voltage |
| --- | --- | --- | --- | --- | --- | --- |
| MOBILUS M35 ERS 10/14 | 40 | 10 | 14 | 120 | 505 | 230 V~ 50 Hz |
| MOBILUS M35 ERS 13/14 | 40 | 13 | 14 | 155 | 505 | 230 V~ 50 Hz |
INITIAL BEAM DIAMETER [ mm ]
φ 40 mm
SHUTTER HEIGHT [ m ]
1,5 m
2,5 m
3,0 m
TUBULAR MOTOR
[ Nm ]
[ kg ]
[ kg ]
[ kg ]
MOBILUS M35 ERS 10/14
10
19
17
14
MOBILUS M35 ERS 13/14
13
28
26
23